It's a minefield out there with so many pet food brands and a largely unregulated pet food industry (seriously, the Australian Standard for Manufacturing & Marketing of Pet Food AS 5812:2017 is just terrible). But don't worry! We've created a list of best dog food for small breeds especially for 2021!
With our short guide created with the help of Pet Food Reviews Australia we aim to cut out the confusion and point you and your pooch in the right direction!
Choosing the Right Small Breed Dog Food
There are a couple of obvious points for feeding a small dog. The first is, in terms of biscuits, they need something small. There are surprisingly few small breed dog foods available, although with some brands the biscuits are suitably small as standard. The second point is they don't eat as much as larger breeds, which may mean more premium brands of dog food are more affordable. Even on a budget it's a good idea to mix and match brands, so you can feed a base diet of a cheaper biscuit and supplement it with a more premium wet food or one of the excellent air/freeze dried dog foods.
In the following paragraphs we'll cover some of the factors used to determine which foods made our Best Dog Food Australia 2021 list.
Nutritional Requirements of Small Breed Dogs
Small dogs need a diet with higher calories than larger dogs, so it's even more important to feed them a food which offers all the nutrition they need without being filled with cheap carbohydrates from grains or potatoes. We're often told dogs are omnivores, but rudimentary science shows their dental structure and digestive system is geared towards whole prey. In fact, on the omnivore to carnivore scale they're closer to cats than us humans.
Age Considerations
For most small dogs any decent diet will cover their needs, but it's important to note puppies and senior dogs need special consideration.
Puppies
A correct diet in the growth phase is essential, so you must ensure they're fed an appropriate puppy diet up to the age of 1 year. Some brands state for all life stages which means the nutrition is adequate for any age of dog, and other brands off a specific puppy formula which will contain better nutrition that the adult formula offerings.
Senior dogs
It's a common misconception that older dogs need less meat. Take a look at many senior formulas and you'll find they reduce meat and increase carbohydrates (usually from grain or potato). This works on the assumption your older dog is less active, but feeding higher carbohydrates will cause their health to decline quicker. The reason this is overlooked is it is often attributed to "old age". Senior dogs depend on meat proteins (amino acids) as much as ever, being critical for retaining muscle mass and organ health. Always keep this in mind when feeding a senior dog.
Special & Prescription Diets
Obviously we never want our dogs to get sick, but for many reasons their health may be affected, by diet, lifestyle, or old age. We believe a nutritious diet from puppyhood will go a long way to preventing such conditions, but if they do we need to address their diet accordingly.
Vet's recommend two leading Prescription Diet brands: Hill's Prescription Diet by Colgate-Palmolive, and Royal Canin by Mars. Although these are the only brands available to cater for specific health conditions, it is questionable whether they are formulated for optimum nutrition. Our best advice is to consider the wet varieties over the dry, specifically for conditions such as renal failure, and in addition research fresh diets for the specific condition and supplement the commercial diet if possible. Most importantly, always seek advice from your vet.
---
Our Best Dog Food Australia 2021 List!
Top Pick: ZiwiPeak
ZiwiPeak by ZiwiPets is purely amazing. All the ingredients are exactly what your dog should be eating, and you won't find any cheap fillers whatsoever. It's packed to the brim with meat, organs, fish, and wonderfully nutritious additions such as green-lipped mussels, inulin from chicory, kelp, and high quality vitamins and minerals.
Being air-dried means nutritional content will remain relatively intact, something that can't be said for biscuits baked at high temperatures.
| Nutritional Analysis | |
| --- | --- |
| Protein | 38% |
| Fat | 32% |
| Fibre | 3% |
ZiwiPeak mimics a raw whole prey diet without the inconvenience (and yuckiness) of feeding raw.
Owners of larger breeds struggle with the price of ZiwiPeak, opting to use it as a supplement or "topper", but thankfully with smaller breeds it's a bit more affordable. It's a fantastic addition to the diet of any small breed!
Very high meat, organs, and fish content.
Grain and potato free.
Well-considered additions for health – green-lipped mussels, inulin from chicory, kelp.
Raw diet with convenience.
Runner up: Open Farm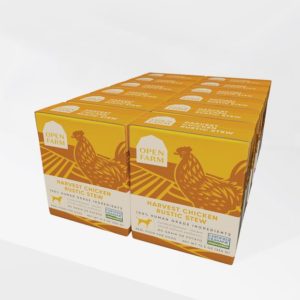 The runner up on our Best Dog Food Australia 2021 list is the wet variety of Open Farm available at Pet Circle. The dry food is also very good, but the wet "milk carton" variety is just really nice. It's also certified humane, supporting animal welfare standards and ethically-sourced ingredients.
The ingredients are wonderful, starting off with meat (such as chicken) and super-healthy bone broth. Open Farm doesn't boast the same high-meat content as ZiwiPeak, but it does contain a range of ingredients each with nutritional merit. These include pumpkin, carrots, green beans, spinach, and red lentils, and also really nice inclusions such as coconut oil, chicory root, and cancer-fighting turmeric.
Open Farm offer an amazing service that no other pet food in Australia offers, and that's traceability. On their website you can enter the "lot code" of your particular product, and they'll give you a list detailing where every ingredient came from!
| Nutritional Analysis | |
| --- | --- |
| Protein | (min) 8% |
| Fat | (min) 5% |
| Fibre | (max) 2% |
| Moisture | (max) 82% |
Certified humane.
Supports animal welfare standards and ethically-sourced ingredients.
Grain and potato free.
Single protein (good for allergies).
Transparency and traceability of ingredients.
#3: Orijen
The first kibble on our list is the incredible Orijen. It's one of the top brands available on the US, and thankfully imported to Australian shores. At times kibble has a bad name, but whether you choose to believe it or not it does go some way to improving dental health. Periodontal vet Tom Lonsdale of Raw Meaty Bones has spent decades treating small dogs who have suffered on an entirely wet diet, which makes variety in a diet very important. Tom is also a strong advocate for species-appropriate raw bones which he considers #1 for overall and dental health.
Orijen features on our best rated dog food list for many reasons, with the main reason being the astounding whole prey ingredients from meats (including fish), and even whole eggs. It's jaw dropping. Salivating.
The Small Breed formula boasts an incredible 39% protein and 18% fat, predominantly from whole prey (and not cheaper substitutes). For a kibble it's simply brilliant.
| Nutritional Analysis | |
| --- | --- |
| Protein | 39% |
| Fat | 18% |
| Fibre | 4% |
Whole prey.
Very high protein (39%) and fat (18%) predominantly from animal sources.
85% quality animal ingredients.
#4: Proudi & Big Dog
Our #4 goes to not one, but two BARF patties: Proudi and Big Dog. We simply couldn't decide which, and there's no reason you wouldn't feed both! You'll find these patties in the freezer section of many pet stores or My Pet Warehouse.
So why are they good? Firstly, they offer an excellent way to feed a balanced raw diet without faffing around for hours figuring out what ratios of breast meat to organs you need to feed. Both products use human-grade meats, which is something which really matters given how bad Australian standards are for pet-grade meats. Many supermarket pet-grade meat brands have fallen foul to contaminants or dangerously high levels of sulphite preservatives.
Both Proudi & Big Dog come as a pack of meals which remain frozen until a few hours before feeding time (or simply move to the fridge the night before). Well worth adding to a diet.
If you're a die hard Australian who only buys Australian products, then these are also our #1 Best Australian Dog Food of 2021.
| Nutritional Analysis | |
| --- | --- |
| Protein | (min) 15.0% |
| Fat | (min) 10.2% |
| Fibre | (max) 1.0% |
Nutritional Analysis for Proudi Chicken Raw Pet Food
Raw food nutrition, frozen for convenience.
Grain and potato free.
Meat + organs + ground bones, collagen, flaxseed.
#5: Healthy Everyday Pets
The last on our list is Australian brand Healthy Everyday Pets. Originally this brand was associated with controversial Paleo-chef Pete Evans, but he's since moved on and no longer associated with the brand.
This position was a tough-call between Healthy Everyday Pets and US offering Canidae PURE, but we felt the need to have an affordable Australian brand biscuit which offers very high protein and fat from meat (a surprising rarity with Australian dog foods).
The range features a number of perks, from grass-fed meats to some form of animal broth, such as beef broth, which is packed with nutrition. It's worth noting they sell the broth separately (but it remains cheaper to make your own). As far as biscuits go, this brand boasts far more meat than others, so it's a worthy addition to your dog's diet.
The only caveat is the kibble is on the larger size, so if that's an issue for your dog then opt to one of the above.
| Nutritional Analysis | |
| --- | --- |
| Protein | (min) 36% |
| Fat | (min) 16% |
| Fibre | (max) 3.5% |
---
That's it for our Best Dog Food Australia list for 2021. We really hope this information will guide you towards feeding your small breed a great diet this year! If you have any feedback then please feel free to leave a comment, but more importantly, we really hope you share this information with others. Thank you.